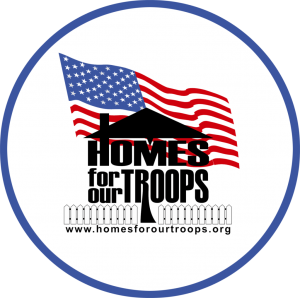 The holidays are in full swing and Paul's Rods and Restos is celebrating with Homes For Our Troops, a nonprofit organization that builds custom homes that are specially adapted for post-9/11 Veterans who suffered from serious injuries.
Here at Paul's Rods and Restos, we support this cause year-round, and are asking our fellow car-loving friends to join in on giving back for the holidays. These homes help Veterans rebuild their lives, after sustaining injuries such as multiple limb amputations, severe traumatic brain injury (TBI), and partial or full paralysis.
According to the organization's Mission Page, they have been a part of building over 240 specially adapted homes since 2004, stating that their goal "is to build a home for every Veteran who qualifies for one of our specially adapted homes."
Paul's Rods and Restos is proud to give back to this wonderful cause and is currently rebuilding a Pro-Touring 1965 Mustang Convertible for one of our heroic Veterans. We have also established a separate account for all contributions toward this project on behalf of Homes For Our Troops. You can make checks payable to:
Paul's Rods & Restos
131 Brook Avenue, Deer Park, NY 11729
Donations will be used for materials and part that will assist in the building of the Pro Touring 1965 Mustang Convertible. All additional funds will be presented to Homes For Our Troops in a check once completed for auction.
Click here to get involved today & find out how you can support Homes For Our Troops!